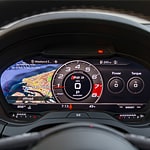 When it comes to popular compact luxury performance sedans, you will struggle to find one more capable than the Audi RS 3. Audi has done its best to bestow the RS 3 with tons of power, the latest technology, and a luxurious cabin that you will love to drive around Fort Collins, CO in.
The RS 3 has a unique heart, as it is powered by a 2.5L five-cylinder engine that makes a stout 394 hp and 354 lb.-ft of torque. Those are impressive power figures for a vehicle this size, and that is reflected in the RS 3's 3.9 second 0-60 mph time. Five cylinder engines produce a unique exhaust note that is more in line with an exotic vehicle than your standard luxury commuter.
These quirky qualities help the RS 3 to stand above the competition, especially when it comes to performance. You can test the Audi RS 3 out for yourself by visiting our team at Audi Fort Collins.