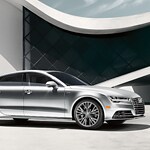 Out of all the modern-day sedans, the Audi A7 just so happens to be one of the best. This popular sedan is based on luxurious features, but the car provides astounding road performance. The exterior of this sedan is sleek and sexy while its interior is sophisticated. Let's dive into the tech advancements.
The 2020 Audi A7 hosts a myriad of tech advancements. First things first, the vehicle's 12.3-inch driver display is mesmerizing to the highest degree. Located in the lower and center dash are two touchscreen displays. You won't have to deal with annoying cords any more thanks to the available wireless charging box. Alexa innovation offers personal assistance, and it can be paired with your home's smart devices. The new A7 also comes equipped with Automatic High-Beam headlamps as well as Lane Departure Warning.
Our reps want all sedan enthusiasts to visit our showroom for a first-hand look. Test drives are also on the menu.