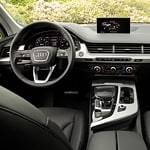 The Audi Q7 is a top-rated SUV thanks to all of its magnificent features. This vehicle is also popular among people of all age groups. Some of the finest of fabrics can be found in the cabin, and there are two available powertrains. Let's dive into the SUV's tech advancements.
First things first, audio enthusiasts will be immersed in high-quality sound thanks to the available 23-speaker Bang/Olufsen audio system. This system is powered by a 1,920-watt amplifier. In addition to that, the Q7 offers Wi-Fi connectivity if you're into surfing the web. Apple CarPlay has also been implemented into the system. Better focus can be adhered to via hands-free functionality. Bluetooth is the culprit, and all you'll have to do is use your voice to command the many features. There's also Night Vision Assistant and Adaptive Cruise Assist.
If want to test drive the Audi Q7, then you'll need to visit our showroom for a presentation.