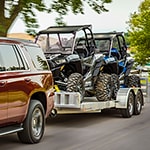 Whether you drive a pickup or an SUV, safe towing starts with good knowledge. We're happy to share our expertise at Audi Fort Collins in Fort Collins, CO.
Every towing journey must consider your vehicle's gross combined weight rating. This rating is the maximum weight your vehicle's engine can tow. Look in your owner's manual for the GCWR value you need. Check for your specific model because GCWR varies by trim configuration. Your vehicle's GCWR goes beyond the vehicle and the item you want to tow. It also includes you, your passengers, and all cargo.
Before each trip, examine your route. Whenever possible, avoid busy roads, steep grades, and sharp curves. Also, allot extra time, so you can drive at a slower speed. After all, the top speed for trailers is commonly 55 mph, which is also a good reason to remain in the right lane on multi-lane highways.