Audi Fort Collins Finance Center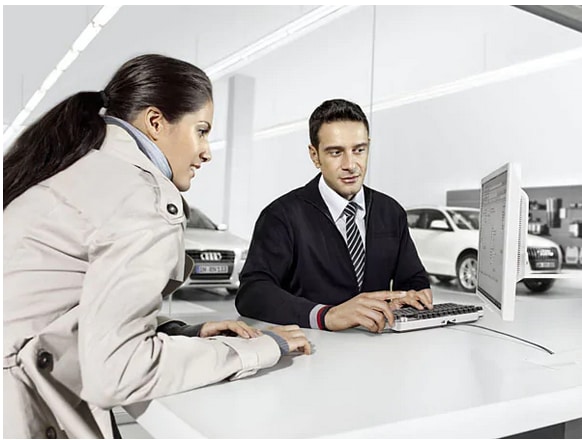 At Audi Fort Collins, we offer competitive financing rates and terms on our great selection of new and used trucks, cars, and SUVs.
Cash - Finance - Lease
Audi Fort Collins has a multitude of lenders who will allow us to customize a plan which meets all of your expectations and needs.
Consider these questions when weighing your options:
How long do you anticipate keeping the vehicle?
 Do you like to drive vehicles that have 
 the latest technology?
What will your approximate annual mileage be?
 Would you like to know what your
 Cost of Ownership is going to be?
Do you typically trade automobiles every 3 years?
 Would paying cash deplete your
 capital significantly?
Is your intention to own this vehicle for over 5 years?
 Would you rather not be liable for
 resale values and bank payoffs?
Paying Cash

Financing

 Leasing

Click here for details.

Being in the position to pay cash is wonderful, but consider the fact that on a new vehicle that depreciates about 40% over the first three years it might not be the wisest use of capital. With discounted interest rates through Audi Financial Services, the proposition of interest paid versus lost interest dividends is worth noting. All of our lenders will set up automatic payments, so no need for those annoying statements and check writing.

Click here for details.

Most people use Financing options to pay for their vehicle.

Our lenders will determine how much of a down payment is needed, depending on your credit history, income to support the payment and the loan to value conforming to guidelines. Loans range from 24 - 84 months, with the 60-month option being the most commonly executed.The vast majority of borrowers do not see the loan through to maturity leaving themselves exposed to:



Loan payoffs that are greater than the vehicles value (inequity).


Fluctuation of market value


The possibility of amortizing inequity into the replacement vehicle loan, leading to a higher car payment than necessary.


All loans available at Audi Fort Collins are Simple Interest; you only pay interest on the payments you make (just like a home mortgage).

Click here for details.

The most misunderstood form of paying for what you use. Leasing allows you, the lessee, to only pay for the portion of the car you use.Our prime lender; Audi Financial Services calculates that a typical Audi which is driven approximately 15,000 miles a year for three years should be depreciated about 45%. You will only get charged on this amount. The remaining 55% (residual) is your option to buy at lease end but you are not liable for the vehicle being worth it.

For people who want to change vehicles on a pre-determined schedule (lease term), always having a factory warranty and optional routine scheduled maintenance with no risk of additional ownership costs... Leasing should be considered seriously.